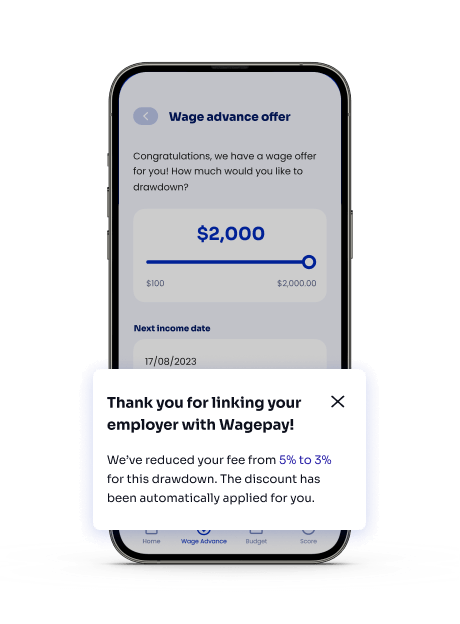 Why us
Benefits For You
In addition to all you the current benefits you get from Wagepay, get even more when your employer verifies your employment in their Wagepay business account.
Reduced Fees, with the standard credit fee reduced from 5% to 3%!
Simple, private process for verifying your employment and income amount, without letting your employer know you are applying for an advance.
Other special business offers.
And more coming soon!
How it works
Connecting Your Employer
Getting connected to your your employer couldn't be simpler.
Your employer will confirm your ongoing employment and income details in their business account.
They will then provide you with a Unique Endorsement Code.
Save your endorsement code in your personal Wagepay account.
That's it! Everything else is managed by Wagepay. Wagepay will not share your account usage with your employer, or ask your employer for payment of your advance.
Getting started
Get your Employer Registered
Easily get your employer setup with a Wagepay Business Account using the following steps.
Send them an anonymous invitation email from your Wagepay app.
Alternately, ask them to visit the Wagepay for Business website to register.
Once they have created their account, Wagepay will verify their business details.
FAQ
Popular Questions
Short on time? Here are the most popular questions we get from employees about our business service.
You can also find more answers from our help centre.
No! We will not tell your employer about your usage of any of our services.
No! Your employer will provide you with a unique endorsement code to access business benefits. We use this code to verify your employment details, meaning your employer will not know when you apply for an advance.
No! We will not contact your employer if you miss a repayment. We won't disclose your use of our services in any way with your employer.